DZ Group continues to stand at the forefront of AI+3D inspection equipment, solidifying its leadership position with another successful seminar. On August 25th, a dynamic seminar was held in Hefei, Anhui, focusing on the theme "Intelligent Factory Digital Transformation and Reliability Enhancement Solutions." The event marked a significant stride towards advancing the industry and promoting innovative solutions.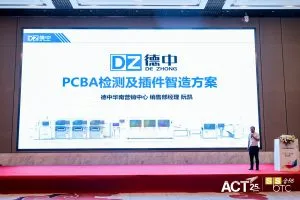 Elevating Industry Dialogue
The seminar was a gathering of minds, dedicated to exploring groundbreaking solutions that bridge the gap between technology and reliability. DZ Group's Southern China Marketing Center's Sales Manager, Ruan Kai, had the privilege of representing the company and took the stage to share insights. With eloquence and expertise, Ruan Kai introduced the audience to our cutting-edge PCBA inspection and plug-in smart manufacturing solutions. His presentation garnered admiration and acknowledgment from industry experts present at the event.
Unveiling Pathways to Transformation
In a world increasingly shaped by technology, DZ Group's presence in the seminar showcased its commitment to driving progress. The comprehensive approach of our PCBA inspection and plug-in smart manufacturing solutions holds the potential to revolutionize the industry. By integrating AI and 3D inspection technology, we aim to elevate quality assurance and efficiency to unprecedented heights, providing industries with the tools they need to excel.
Anticipating the Future
With the echoes of success resonating from the Hefei seminar, DZ Group sets its sights on the next milestone. On September 7th, CEIA Beijing Technical Seminar will mark the continuation of our journey towards innovation and excellence. This event promises to be another pivotal platform for sharing insights, exchanging ideas, and forging partnerships that drive the industry forward.
Conclusion
DZ Group's recent seminar in Hefei not only underscored our leadership in AI+3D inspection equipment but also demonstrated our commitment to advancing industry dialogue and innovation. With Ruan Kai's impactful presentation and the affirmation of industry experts, we continue to pave the way for smarter, more reliable, and more efficient manufacturing processes. As we eagerly anticipate the CEIA Beijing Technical Seminar, we remain dedicated to shaping the future of technology and industry through innovation, collaboration, and excellence.